Hofner Colorama, 1961, Vintage, Set Neck,
Musical Instruments:Guitars & Basses:Electric Guitars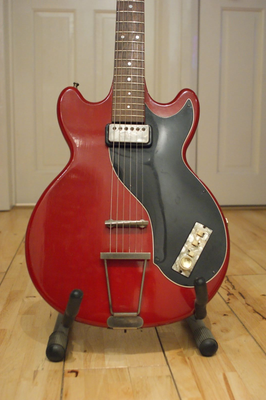 This is an absolute gem of a guitar, had this for a few years now and loved every minute. It's a 1961 (I believe) Hofner Colorama - Information is quite scarse about the exact years of this guitar but based on the spec and serial number, I believe it's from '61. It's in amazing condition, especially considering it's over 55 years old, with just a couple of small dings on the back and near the tailpiece (see pictures). The front of the guitar is fantastic, with the slight hazing you get from authentic vintage finishes. It features a single neck pickup (Hofner Diamond Pickup) that's been professionally rewound at Mojo pickups to original spec. Everything on the guitar is completely original as far as I can discern, and working correctly. All switches are fully functional with a rhythm on/off, treble on/off andbass on/off as well as a volume knob; these give a great range of tonality for just a single neck pickup. The bridge sits on the body just from the pressure of the strings and the intonation is pretty much perfect which is frankly a bit of a miracle considering it doesn't feature micro-adjust saddles. The metalwork has a nice patina on it but very little/no rust - again, see pictures. It features a set neck with 22 frets (and a 0-fret) with very little wear, again, frankly a miracle considering the guitar's age. Guitar has been restrung and set up and plays fantastically, beautiful for blues, jazz, clean or classic rock tones, although obviously less suitable for high-gain music. The only part missing is the bottom strap button which seems to have been lost years ago, this would be very easily replaced with a modern part, however as I haven't played it in a live setting stood up, I preferred to keep it all original. Any questions please ask away, I'll do my best to answer. I'll post the guitar out in a guitar box and well packaged, although local collection from Coventry/Bedworth area is preferred for ease and safety. No international shipping on this, payment via paypal or cash-on-collection. Payment to be made up to 48 hours after completion unless arranged otherwise prior to bidding.